What is Corflute?
Corflute is a sheet of polypropylene with a fluted or corrugated core. This makes it a robust, strong and light weight alternative to heavier signage material. It is known by a number of names including Supercore and Multicore but we like Corflute.
Weather Resistant and tough
Although very light, Corflute signs stand up really well to the extremes of the Aussie climate, so you'll often see them on construction sites where they can be easily attached to safety fencing and other temporary or insubstantial structures. Heat and cold don't affect their shape and integrity, and paired with our UV resistant, environmentally friendly inks, artwork and colour won't fade for up to a year outside. We have tested this out for ourselves!
Versatile
Not only for construction sites, Corflute is ideal for real estate agency signs, parking lot signs, shop front signs, retail point of sale, even life size cutouts of whomever or whatever you'd like to promote. These rigid signs are great for any situation, event and promotion, short lived or permanent, fixed or unfixed. Easy to lift and transport, they lend themselves to easels or simply leaned up against a wall – perfect for fund raisers or pop up shops.
Gee, there sure are lots of uses for Corflute signs, the very versatile signs.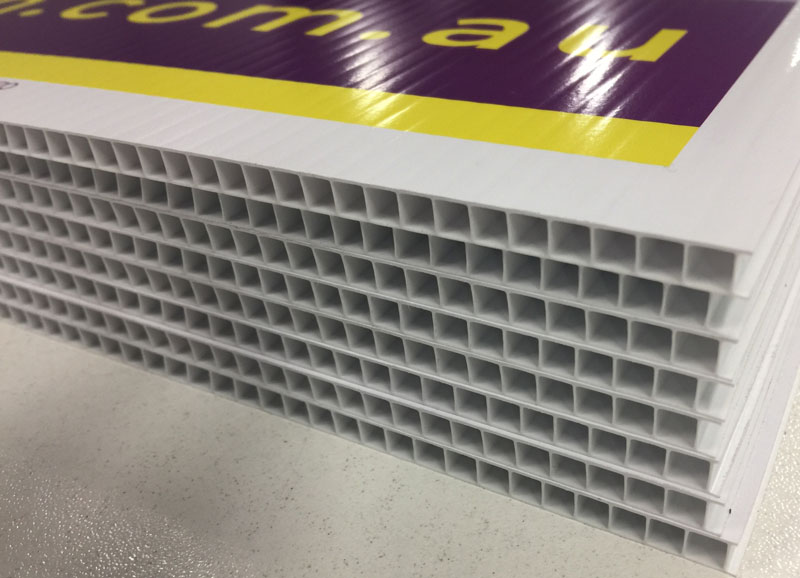 We'd be happy to print your corflute signs! Just drop us a line and we'll get right back to you.