Beautiful, exquisitely detailed greeting cards and art prints showcasing the timeless botanical artwork of Miss Eliza Blyth (1820-1894). Our images are direct and lovingly restored reproductions of photos taken of her priceless, original, one of a kind illustrations.
They are perfect for gift shops of any kind, including botanical garden, museum and art gallery gift shops. Florists and garden centres love them. Proudly printed in Australia and shipped nation wide.
A short history
Born in Essex England in 1820 and one of nineteen children, Eliza Blyth came to colonial Tasmania in 1848 and was known as an artist and teacher. From 1855 to 1875 she ran a school teaching watercolour, drawing and sketching in Macquarie Street, Hobart Town. From 1876 until 1883 Miss Blyth was Art Mistress at the Hutchins School for Boys in Tasmania.
Miss Blyth was a talented and prolific artist with works ranging from single stem specimens to complex groupings incorporating a variety of elegantly arranged flora. Her watercolours of Wildflowers were awarded a medal in the 1866 Intercolonial Exhibition in Melbourne. She won many awards in Tasmania and other parts of Australia.
Her main subjects were flowers and landscapes. Her work was exhibited regularly in Tasmania and on the mainland in exhibitions such as the South Australian Society of Arts in 1863, the Victorian Intercolonial Exhibition in 1875, and the New South Wales Agricultural Society and Academy of Art in 1876.  
Pictured is the label from her entry in the Australian Intercolonial Exhibition of 1866.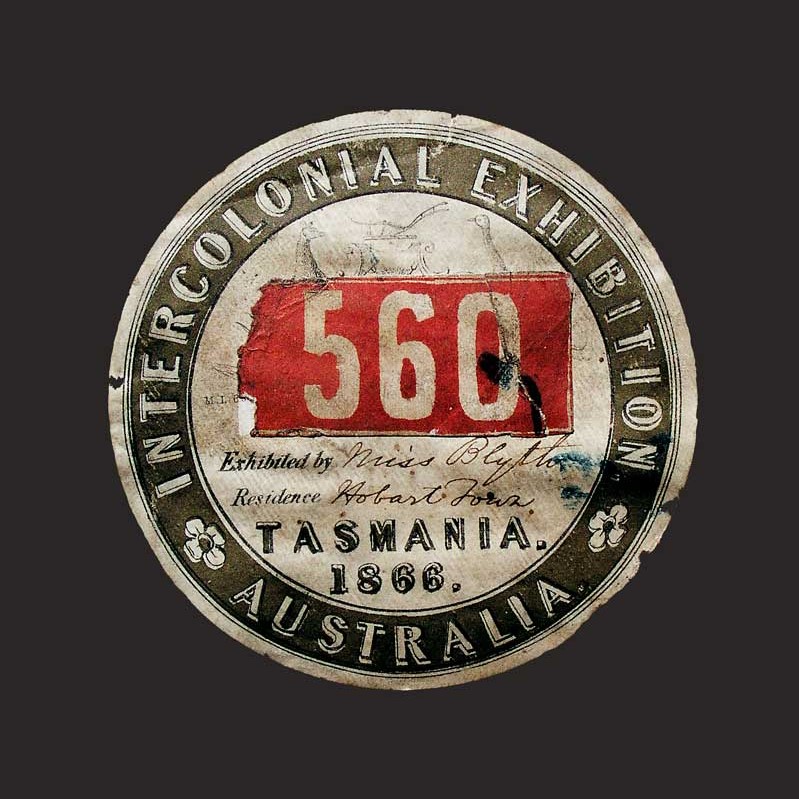 Two of her paintings are displayed in the State Library of Tasmania's Allport Heritage Collection, and two are held in the collection of the Art Gallery of Ballarat. The leather bound folio from which directly stem the twenty artworks reproduced here, is now with the Art Gallery of Ballarat.
Miss Blyth died at home in Tasmania in 1894.
On Tuesday, March 27, at "Essex House", Bellerive, Eliza, daughter of the late William Blyth, of Stanway, Essex, England, and sister of the late Dr Robert Blyth, of Shrub End, Sorell, in her 74th year.
- The Hobart Mercury, 28th March 1894
Please go to our shop to purchase greeting card sets and art prints. Or for more images and business / wholesale enquiries, please view our gallery.
Sources: 'The Dictionary of Australian Artists: painters, sketchers, photographers and engravers to 1870′, edited by Joan Kerr (1992), Melbourne, Oxford University Press.; 'Capturing Flora: 300 years of Australian botanical art', Morrison, Gordon et al (2012), Art Gallery of Ballarat, Vic. 
Also: www.anbg.gov.au/biography/blyth-eliza-artist.html; https://daao.library.unsw.edu.au/bio/eliza-blyth/biography; http://www.artrecord.com/index.cfm/artist/13179-blyth-eliza/